(A most Suitable Dubai Travel Guide on the internet for First time Dubai visitors)
Realizing the charm of a palace in the desert, the city of Dubai is world-famous for its rich tourism and splendid culture. This is why millions of tourists choose Dubai tour packages every year to spend their holidays and honeymoon. Although it must have been hard to stay untouched by Dubai until now, you have made up your mind, so take a look at the Dubai tour guide for a neat and hassle-free journey.
Since the Dubai Tourism Department opened its doors to global tourists on 1 September 2021, tourists will still have to follow the Dubai tourism Covid-19 guidelines as strictly as possible. Before reading the Dubai travel guide, know about covid restrictions in Dubai.
Passengers from all countries must submit the Covid PCR report at the airport within 72 hours.
Tourists have to install Covid 19 DXB Smart app on their mobile
You will have to stay in isolation for ten days if favourable for the covid test.
Masks and sanitisers must be used when checking in at all tourist places and hotels.
A Quick Dubai Travel Guide
| | |
| --- | --- |
| Temperature: | Avg. of 15°C to 45°C |
| Currency: | Dirham – AED |
| Language: | Arabic |
| Capital: | Abu Dhabi |
| Population: | 2.885 million |
| Popular Tourist Destinations: | Burj Khalifa, Palm Jumeirah, Miracle Garden |
| Time Zone: | UTC+04:00 |
| Area: | 4144 square km |
| Capital's calling code: | +971 |
Dubai Tour Guide
Dubai tops the list of UAE's most developed emirates and has retained its culture even after such evolution. Dubai can be visited all year round by tourists, but first-time travellers are worried about the best time to visit Dubai.
Best Time to Visit Dubai
Dubai is a hot destination, so April and September are less warm than the rest of the year, during which the city's climate prepares for winter, and the skies are clear.
However, if you are looking for the cheapest months to visit Dubai, August and May are when hotel prices are low due to low tourist load, and food options are also less than peak times.
If you want to enjoy shopping in Dubai, then the Dubai Shopping Festival is a great excuse to capitalize on which you should visit Dubai from mid-December to 29 January.
Do Indians Need a Visa to Visit Dubai?
Dubai Tourism has made mandatory visas for all Indians to visit Dubai. Indian passport holders can apply for a Dubai visa online and get visas for 30 days and 90 days.
Indians with Green cards from the USA, UK, and Europe will get Dubai on Arrival Visa.
Best Places to Explore in Dubai
Dubai is the home of modernity, and this country has given its place only to the best destinations. Dubai is one of the most delicate manufactured objects where travellers can look forward to having a great time at the residential Palm Beach, the cloud-chilling Burj Khalifa, and the lovers' favourite Dubai Miracle Garden.
Dubai Global Village
Dubai Global Village is a multi-faceted destination with entertainment, fine exhibitions, food, and more for just INR 300. Global Village is the best showcase of Middle East culture, a must-place in your travel plan.
Miracle Garden Dubai
Spread over 72,000 square meters, Dubai Miracle Garden is the largest flower garden in the world. Come visit this garden to witness the creativity of Dubai and admire the sculptures made of over 109 million delicate flowers.
Dubai Marina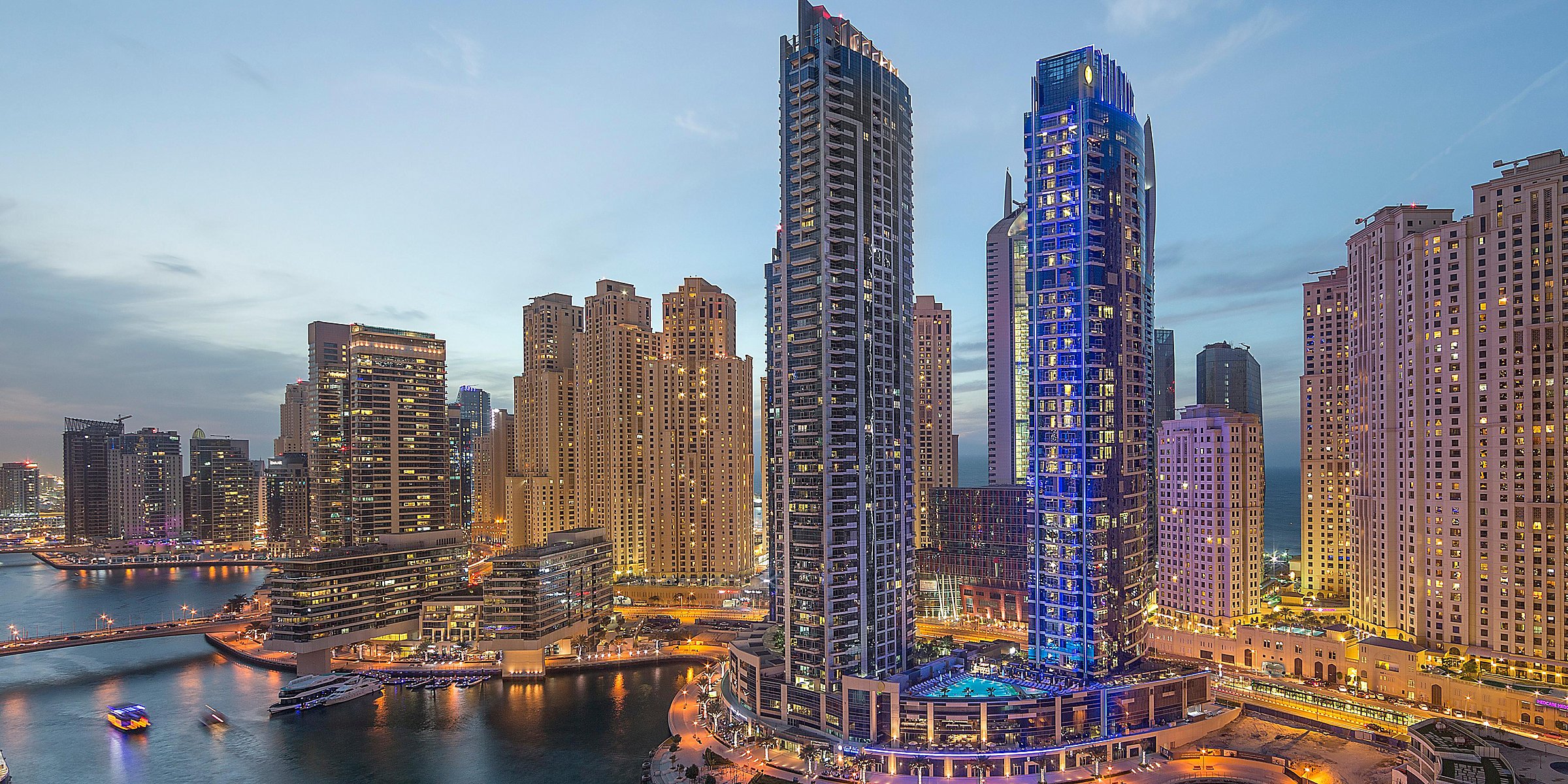 Man-made "New Dubai" city that prides itself on the shoreline of the Persian Gulf with its peak skyline Dubai Marina is a beautiful sight for visitors to gaze at in the moonlight. If you are a fan of excursions, the city also has a dozen good shopping options can seek.
Massive Dubai Aquarium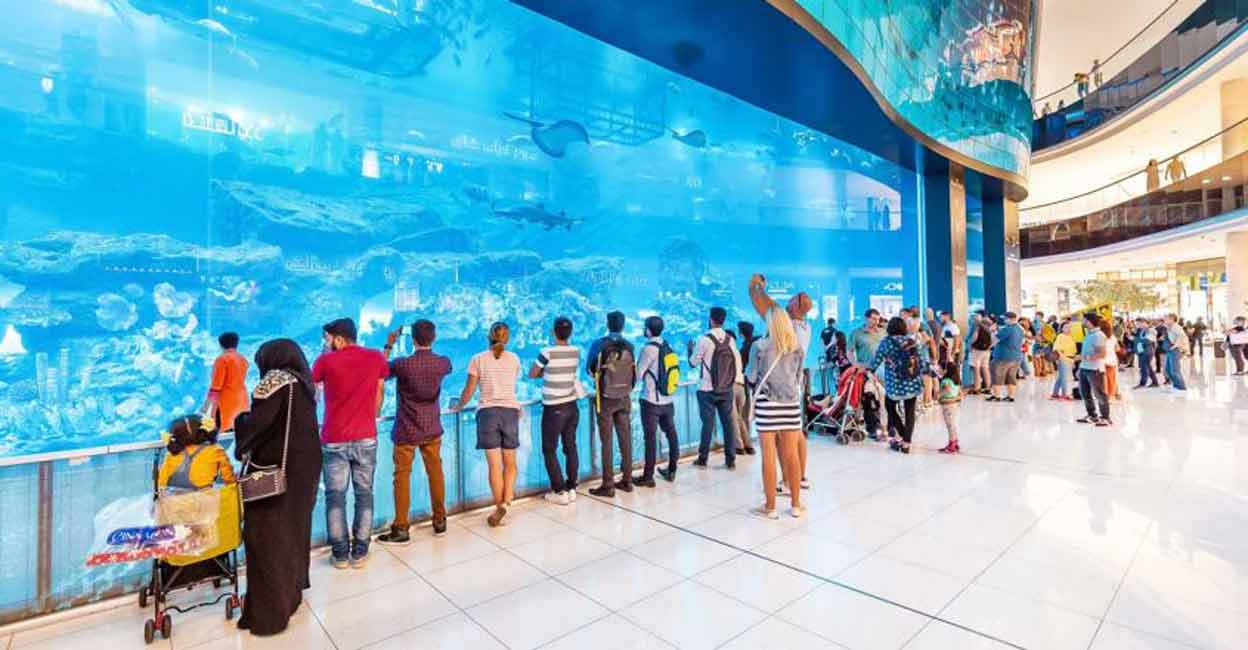 Allocated on the ground floor of the Dubai Mall, a ​​mysterious oceanic world is the favourite destination of tourists. This underwater zoo is home to about 33,000 sea creatures. As a virtual world, the Dubai Aquarium is a unique destination for travellers of all classes, where everyone is amazed to find a plethora of life beneath the ground.
Best Local Dishes to Try in Dubai
Arab fusion holds its own identity worldwide, and Dubai is the best place to experience it. Dubai is a pioneer in testing spices; hence, the street food here dissolves in every traveller's mouth. Dubai food has influenced the cuisines of many Asian countries. There is a wide choice of street food, such as Chicken, Stuffed Camel, samosa, etc. But this trip will be incomplete if you are left untouched by some of the top cuisines of Dubai.
Oman Chips Roll
Sambora
Luqaimat
Falafel
Knafeh
Exotic Hotels To Accommodate in Dubai
Dubai is the emirate's crown famous for its architecture in the world. This city boasts of the best hotels, where people from all over the world come to take service. Here are the best hotels to stay in during your Dubai trip.
Atlantis the Palm: Center of Atlantis, The Palm has one of the world's most sought-after suites
Armani Hotel: The Dubai Armani Hotel is also connected to the Dubai Mall, a great option to stay in the Burj Khalifa, the famous hotel named after the Armani designer.
Jumeirah Beach Hotel: Luxurious 5-star hotel near Burj Al Arab whose sleek and attractive design exemplifies architecture.
Burj Al Arab: An unmatched human work of modern architecture, Burj Al Arab is Dubai's most expensive hotel
How Much Will a Dubai Trip Cost You?
Dubai travel cost depends on your travel style. The city also has accommodation starting from Rs 3000, and accommodation in some niche hotels can go up to million dollars. Generally, an average traveller can visit Dubai for 5000 to 6000 rupees per day, including housing, food, transportation, and seeing the costs of famous destinations.
Dubai Trip Cost for Solo Travelers: If you are a solo traveller, you can camp in a hostel for Rs 5000 per you can cook your food and spend on adventure activities. If you want to include alcohol, you need to add Rs 1000 per day.
Honeymoon Cost in Dubai: A honeymoon couple will obviously crave luxury, so two people can stay in a luxurious hotel in Dubai and savour fine dining at the expense of around 30,000 per day. Apart from this, the Burj Khalifa tour and Desert Safari will also be able to visit comfortably.
Money-saving Tips on Dubai Tour
Luxurious Dubai is an expensive city to visit; eating out at restaurants, shopping in malls, and going on adventures like desert safaris will transfer a lot of money out of your pocket. But a few sane steps can save your pockets so that you return with a budget Dubai travel experience.
Pick accommodation near a metro station.
Eat-in old Dubai restaurants rather than expensive New Dubai restaurants
Either buy or carry a reusable water bottle.
Check local Instagram pages to find happy hours in restaurants and bars.
Stay at a hostel or budget hotel.
Avoid consuming alcohol
Use the metro for local transportation.
Don't shop in prestigious malls and markets.
Best Platform to Book Affordable and Elite Dubai Tour Packages
Roaming Routes is the best tour operator in India that accepts bookings of Dubai Tours worldwide. If you are looking for a great and affordable Dubai holiday and honeymoon trip, feel free to opt for one of the categorized Dubai tour packages on Roaming Routes and put the doubts of your travel plans on your travel operator's shoulders. The most exclusive of all Dubai packages on Roaming Routes include packages that have been handpicked to make the best use of your quality time.
Dubai Tour Packages Inclusions
Accommodation in Dubai with Daily Breakfast
Dubai Panoramic City Drive
Dubai Desert Safari with BBQ dinner
Burj Khalifa visit with Dubai Fountain Show.
Dinner on a dhow cruise
Return economy class fare ticket
Dubai visa with board charges
Best Tour Itineriris for Dubai Travel
The entire Dubai tour requires at least four days. If you are a solo traveller, then it can be completed in 2 days also, but for families and honeymoon couples, it is necessary to have a detailed tour itinerary. Here are some great and different durations Dubai tour plans are being given.
Dubai 4 Days 3-Night Tour Itinerary for Families:
First Day: Dhow cruise dinner and Dubai Marina tour
Second Day: City tour and desert safari with BBQ dinner
Third-Day: Underwater aquarium visit with Burj khalifa 123rd-floor tour
Last Day: Breakfast in Dubai and Departure
Dubai 5 Days 4 Night Honeymoon Couple Tour Itinerary:
Day 1: Yellow boat tour in the Evening
2 Day: Ferrari world and warner bros tour in Abu Dhabi
Day 3: Desert safari with bbq dinner and belly dancer
Day 4: Snow park visit in the morning and evening Burj khalifa tour
5 Day: Big Bus Dubai city tour and Departure
Dubai 7 Days Tour Plan:
Day 1: Dubai Marina and dhow cruise ride
Day 2: Musandam Peninsula Dibba Dhow full-day trip
3: Dubai frame and Burj khalifa tour
4: Full Day Dubai underwater zoo and Aquaventure trip
5: Evening Desert Safari
6: world's most extended Jabal Jais Zipline tour
Day 7: Breakfast and Departure
The above Dubai travel plan covers almost all the attractions and activities and is the best tour itinerary for visiting Dubai for the first time.
Well, you read it till the end! This is an accomplished Dubai travel guide that will give confidence to first-time Dubai visitors. Hope you make a splash in Dubai by getting a concise travel guide. Happy journey!
Read also: professional chauffeur service London
chauffeur services